What's New

Online Registration

Patient Guide

Features

Honors

Health Examination

Stories

International Medical Service Center
Traffic Information
Cited (4)
Print


2020/12/23 14:10:13

84099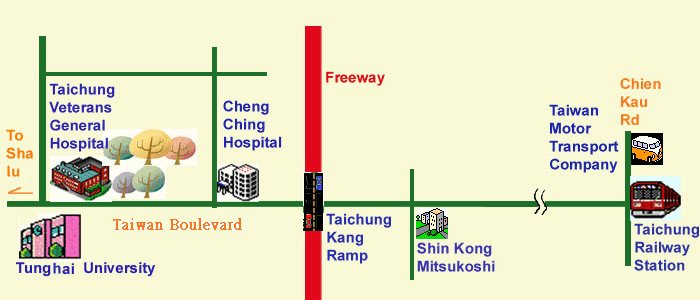 ADDRESS
1650 Taiwan Boulevard Sect. 4, Taichung, Taiwan 40705, ROC
Bus Information
1. Bus stops on Chien-Kuo Rd (in front of the Taichung Railway Station): Chu-yeh Bus for Da-jia, Ching-shuei etc.
2. Bus stops on Liu-Chuan W. St, : Ren-you Bus No.35 or No.41, or Taichung Bus No.103 or No.22.
Driving Direction
Getting off the highway at the Chung-Kang Ramp, driving in the direction of Sha-Lu for about 5 minutes, then Taichung Veterans General Hospital will be found on the right side (in front of Tunghai University).
Taiwan High Speed Rail Transfer Information