What's New

Online Registration

Patient Guide

Features

Honors

Health Examination

Stories

International Medical Service Center
Clinical Trial Pharmacy
Cited (1)


2021/4/6 11:45:50

2038
Clinical Trial Pharmacy
| | |
| --- | --- |
| | |
| A real-time temperature alerting system | Cooling and refrigerating equipment |
| | |
| Clinical drugs are stored in separate and locked spaces | Clinical drugs are stored in separate and locked spaces |
​
​
Introduction
This pharmacy manages all drugs in clinical trials approved by the hospital, and the drugs needed in projects initiated by the moderators.  A specific pharmacist has been assigned to manage clinical trial medication since 2019. In view of the fact that the clinical trial pharmacy's workload has grown substantially, an additional pharmacists has been responsible for sharing the management so as to ensure the quality and the performance of the operation.
Service and Characteristics
The Clinical Trial Pharmacy has dual access control (an electronic lock and a key lock), an emergency power supply for all refrigeration equipment, and an independent locked storage cabinet. In 2014, a real time temperature alerting system was set up to ensure the storage quality of medicines. To enhance the safety of the subjects' medication, prescriptions and drug delivery were computerized in January 2018. The operating space of the trial pharmacy was increased in 2019. Since  October 2019, the trial drug withdrawn would be kept by the responsible trial pharmacist. In March 15, 2020, the hospital passed the American AAHRPP international certification (Full Accreditation), in which the Clinical Trial Pharmacy is an indispensable part.  
Investigational drugs management equipment
The entrance are double-locked by a key lock and an electronic lock
Lockable mobile drug cabinets
2˚C -8˚C refrigerators, -20˚C freezers
Central air conditioning system and split-type air conditioner
A room temperature instant monitoring system and alarm system
Cooling facilities with a temperature monitoring system and alarm system
Electronic continuous temperature recorders
Emergency power supply
Procedure
Flow Chart of Investigational product(s) Management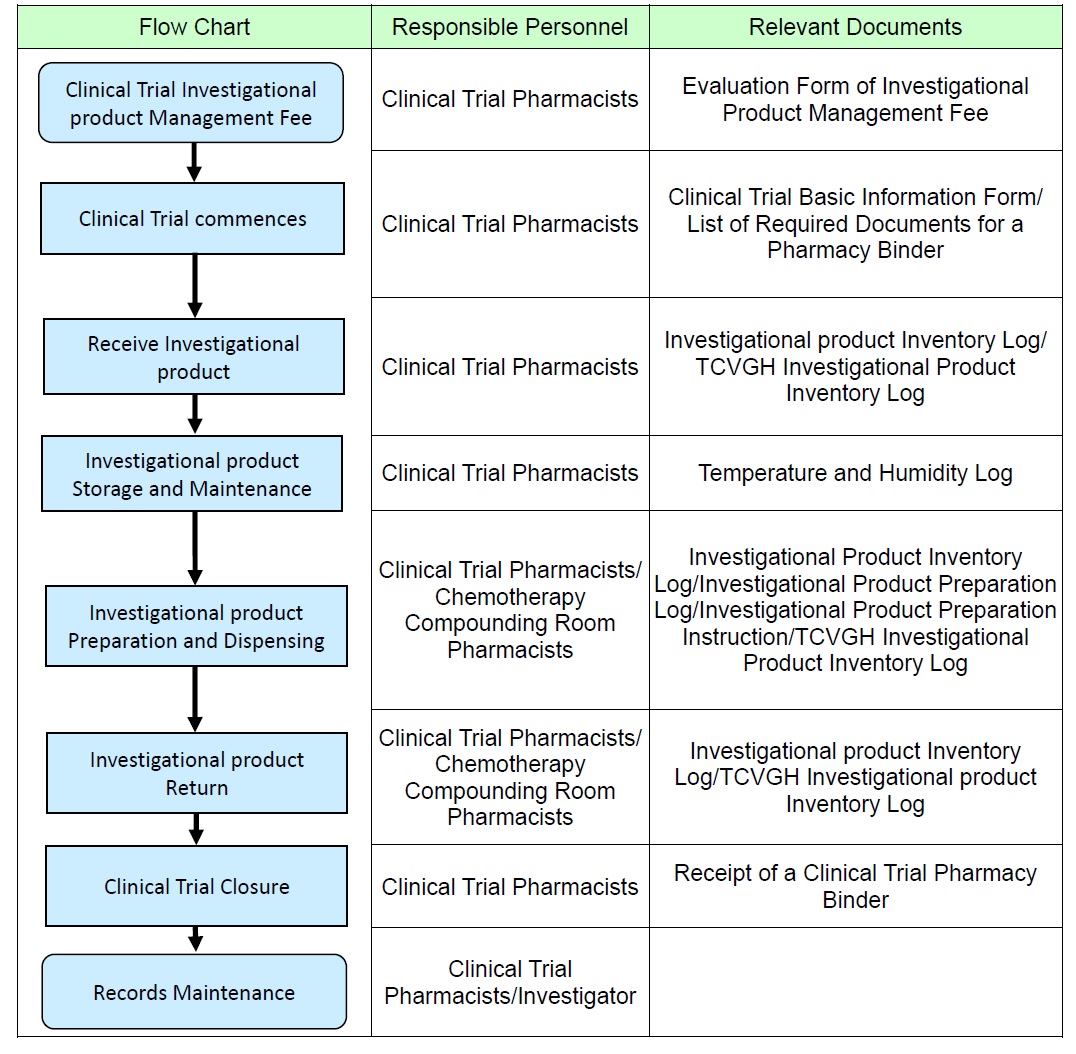 Service Hours:
9:00 - 17:30, Monday through Friday.
(If service is required during the off hours, please inform the pharmacist in advance)  
Contact us:
Nai-Yun Huang, Clinical trial pharmacist
Yu-Chen Su, Clinical trial pharmacist
Yu Wen Wang, Clinical trial pharmacist  
Telephone:886-4-2359-2525 Ext. 4655
Email:
PHCL@vghtc.gov.tw
FAX:886-4-23741386  
Location:
Taichung Veterans General Hospital
Clinical Trials pharmacy,B1 Emergency Building,
1650 Taiwan Boulevard Sect. 4, Taichung, Taiwan 40705,ROC
[Chinese Version]