What's New

Online Registration

Patient Guide

Features

Honors

Health Examination

Stories

International Medical Service Center
1-1 Chest Medicine
Cited (2)
轉寄


LastUpdate:2020/2/18 9:08:08
Hits:683
Introduction
The Division of Chest Medicine, which belongs to the Department of Internal Medicine at Taichung Veterans General Hospital was set up in 1982. Manning quotas include 1 chief, 8 attending physicians, 2 chief residents, 1 associate technologist, 1 medical technologist, 1 technician, 1 registered nurse, 3 nurse practitioners, and 7 contract-based technicians. Clinical service facilities include pulmonary function test room, bronchoscopy room, immunohistochemistry lab, chest ultrasonography room, bronchoscopy room, pulmonary rehabilitation room, polysomnography room, and hyperbaric oxygen therapy center.

Service and Characteristic
Our division pays equal attention at both clinical service and research. The goal of research is to promote better quality of clinical service and improve the patients' outcome. Four major fields of our division include critical care and pulmonary infections disease, lung cancer, asthma and chronic airway disease, and hyperbaric oxygen therapy.
1.Critical care and pulmonary infections disease: our mission is to provide comprehensive diagnosis, general care, and treatment to critically ill patients and to become the outstanding critical care center of central Taiwan. We've also published lots of our research results at famous international journals.
2.Lung cancer: we are enthusiastic to improve the outcome of lung cancer treatment and to organize and participate clinical trials. Both the quantity and quality of the enrollment of clinical trial patients are outstanding in Taiwan. Recently, we've developed the bronchoscopic ultrasound techniques, which include both curve and radial probes. These techniques can provide less invasiveness and higher yield rate of lung cancer diagnosis; hence can provide better quality of lung cancer treatment.
3.Asthma and chronic airway disease: we not only provide the medical treatment for patients with airway disease but also pay attention at patient education and research. We set up health education center for patients with asthma and chronic obstructive pulmonary disease at outpatient department and also actively participate lots of international clinical trials of airway disease.
4.Hyperbaric oxygen therapy: the hyperbaric oxygen therapy center was set up in 2003, which focus on the therapy of patients with acute air embolism, carbon monoxide intoxication, gas gangrene, acute burn injury, radiation osteonecrosis, radiation cystitis, and decompression sickness.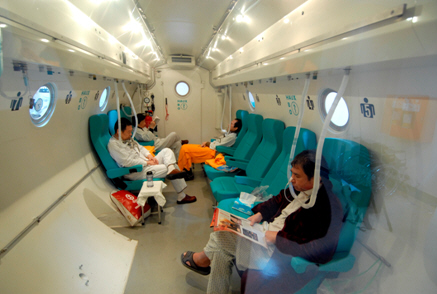 This division actively participates in local and international clinical trials. The number of cases recruited and the credibility of clinical data rank among the premier hospitals in Taiwan. This division is also one of the few outstanding centers for diagnosis, treatment, and patient education of chronic airway diseases (including Asthma and COPD) in Taiwan.