What's New

Online Registration

Patient Guide

Features

Honors

Health Examination

Stories

International Medical Service Center
1-4 Gastroenterology
Cited (1)
轉寄


LastUpdate:2020/2/18 9:08:08
Hits:1017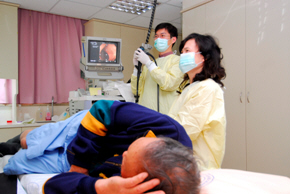 Gastroenterology is the medical specialty concerned with the diagnosis and treatment of diseases of the gastrointestinal system, which includes the esophagus, stomach, intestines, liver, gall bladder, pancreas, colon and rectum.

Through a variety of clinical and diagnostic equipment, the Gastroenterology unit is able to diagnose and treat all types of gastrointestinal conditions. We also offer specialized clinics for the treatment of the following conditions: biliary tract disorders, esophophageal disorders, gastrointestinal cancer, liver disease, motility disorders and ulcer disease.

With our recent established "GI Endoscopy Center", we are able to provide full endoscopic sevices including esophagogastroduodenoscopy, small bowel enteroscopy, colonoscopy, dilatation (esophageal, pyloric/gastric, biliary), E.R.C.P., Endoscopic Ultrasonography, polypectomy (both upper and lower), variceal sclerosis and banding, percutaneous endoscopic gastrostomy and Radiofrequency obliteration of liver tumor.