What's New

Online Registration

Patient Guide

Features

Honors

Health Examination

Stories

International Medical Service Center
1-5 Nephrology
Cited (3)
轉寄


LastUpdate:2020/2/18 9:08:08
Hits:690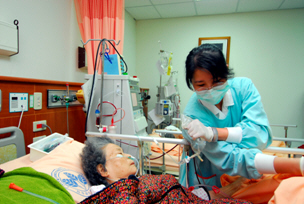 We are certified to offer services including kidney transplantation, dialysis and glomerulonephritis. These efforts have resulted in a rapid accumulation of clinical experience and publication of scientific papers in several outstanding international journals.

Our renal transplant program started in 1983 and is one of the few pioneer programs in Taiwan. The accumulated transplant patient number testifies to our expertise (1,160 by the end of 2011).

Since 2005, we started to carry out a national program of promoting health of the kidney and preventing chronic kidney disease, sponsored by the governmental Bureau of Health Promotion, DOH. Hopefully, this task force will cut down the high incidence and prevalence of end-stage renal disease in Taiwan.